Each Ukulele Kit includes:
1 soprano ukulele in a case
1 tuner w/ battery
1 book & DVD (sleeve in book)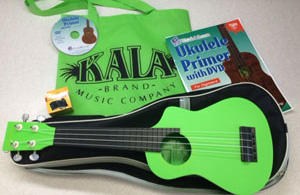 About the Project
The Tampa Bay Ukulele Society (TBUS) generously donated 20 Ukulele Kits to the Tampa-Hillsborough County Public Library.
Ukulele Kits are part of the library's realia collection. Ukulele Kits are searchable in the library catalog. They may be placed on hold and sent to other library branches.
We welcome your input if you have participated in this program and/or would like to offer suggestions.