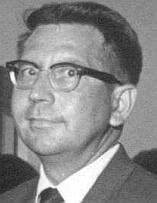 Director of Library Services
Tampa-Hillsborough County Public Library
1965 - 1972
Biography
Cecil Prentice Beach was born on July 12, 1927 in Knoxville, Tennessee to Frank and Lillie Beach. After serving in World War II in the United States Naval Reserves, he earned a Bachelor of Arts degree from the University of Chattanooga in 1950 and a Masters of Arts in Library Science from Florida State University in 1952. Following graduation, he held librarian positions in Chattanooga, Tennessee and Decatur, Georgia. He served as director for Piedmont Regional Library in Winder, Georgia (1954 to 1960) and for Gadsden Public Library in Alabama (1960 to 1964). Prior to coming to Tampa, he was a library consultant for library buildings and services and participated with the United States Library Services and Construction Act Advisory Committee.
Mr. Beach was hired as Director of Libraries for the Tampa Public Library in September, 1965. During his tenure as Director, he supervised the building of the new main library, from groundbreaking to dedication. He continued the expansion of library services with new branches in Brandon, Town 'N Country and Lutz. Existing branches receiving new buildings or expansions were Peninsular Branch, Ybor Branch and North Tampa Branch. Mr. Beach's professional activities during this time included President of the Florida Library Association in 1969, Chairman of the Florida Library Study Commission from 1970 to 1972, and President of the Southeastern Library Association in 1972.
On July 1, 1972, Cecil Beach left Tampa for Tallahassee to become Florida's State Librarian. In 1977 Mr. Beach returned to the public library as Broward County's Director of Libraries until being asked to oversee eight divisions as the county's Public Services Director. After retiring on August 1, 1992, Mr. Beach continued to work as a library consultant through Beach/Willey Consultants of Tallahassee and as a library school instructor at Florida State University and University of South Florida.
In recognition of his professional and community contributions, the Florida State University Alumni Association awarded Mr. Beach its Distinguished Alumni Award in 1985.
Cecil Prentice Beach passed away on September 21, 2020 at the age of 93.