Home Tampa-Hillsborough County Public Library Library History Helen V. Stelle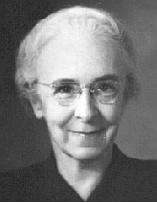 Director of Library Services
Tampa-Hillsborough County Public Library
1917 - 1947
Biography
Helen Virginia Stelle was born in Alton, Illinois in September, 1884 to Oliver Stelle and Clara Cotter Stelle. She attended the Pratt Institute Library School in Brooklyn, New York. She served as a librarian at Shurtliff College in Alton, Illinois and at the Superior Public Library in Superior, Wisconsin.
In early 1917, she moved to Tampa after being hired as library director by the Board of Trustees of the newly built Carnegie-funded library at 102 7th Avenue. As the first director of Tampa Public Library, she diligently selected books, organized staff and oversaw the day-to-day demands of running a city library. Miss Stelle led Tampa's library services to grow into a city-wide system with the addition its first library branches and part-time stations: Hyde Park Branch (1922), Harlem Branch (1923), Desoto Park Branch (1924) Jackson Heights station, West Tampa Branch (1925, after annexation), Seminole Heights Branch (1927), Ybor City Branch (1934) and West Branch (1946). She initiated bookmobile service in 1930.
In addition to being a pioneering librarian, Miss Stelle was very active within her local and professional communities. She was a founder of the Florida Library Association, serving as president for two terms in 1922 and 1931. She also was vice president of the Southeastern Library Association in 1930 and president of the Southwestern Library Association in 1934. She was a member of the Tampa Woman's Club, the American Library Association, the American Association of University Women, the Tampa Art Institute, and the First Presbyterian Church.
Miss Stelle celebrated her 30-year anniversary with the Tampa Public Library in April of 1947. Although her health was declining, she continued to work, making herself available to library patrons and particularly sharing her love of books with children. At the age of 63, Helen Virginia Stelle passed away on September 21, 1947. She was laid to rest in her birthplace, Alton, Illinois.