Home Tampa-Hillsborough County Public Library Library History Joe R. Stines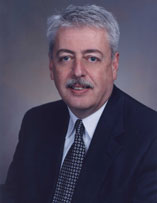 Director of Library Services
Tampa-Hillsborough County Public Library
1991 - 2015
Biography
Joe R. Stines served as the Director of the Tampa-Hillsborough County Public Library from 1992 to 2015 but began his career with Hillsborough County in 1985. He earned his M.L.S. Degree from the University of Tennessee in Knoxville and did post-graduate work at the University of Tennessee, College of Communications, specializing in Public Relations.
Joe's early work was as a children's librarian. However, his professional experience also included work at the University of Tennessee as a Research Associate at the Energy and Environmental Resource Center and Head Librarian for the Joint Research Center Library. He worked as a professional librarian for 30+ years. Joe published several articles and served as an adjunct faculty member at USF's School of Library and Information Science teaching storytelling. He received the 1998 "Outstanding Community Communicator Award" from the Tampa Educational Cable Consortium and an "Excellence, Dedication, Devotion In Education Award for Educational Visionary" ("EDDIE") from Hillsborough County Public Schools in 2003.
Joe was an active member of the American Library Association and Public Library Association. He served as President of the Tampa Bay Library Consortium and as 1999 Chairman of the Florida Library Association's Legislative Committee. He completed a three-year term on the Board of Directors of the Southeastern Library Network, Atlanta, Georgia (1999-2002). He completed Eckerd College's Leadership Development Program in 2002. He also served as Interim Assistant County Administrator for Hillsborough County, Human Services from October, 2003 to September, 2004. He is a member of the 2005 Leadership Tampa alumni class.
Joe is an avid railfan and travels the world by train at every opportunity.