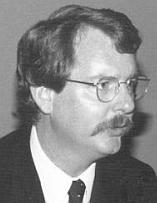 Director of Library Services
Tampa-Hillsborough County Public Library
1983 - 1991
Biography
John Merlin Adams was born June 10, 1950 in Chicago, Illinois. He graduated from the University of Illinois in 1972 with a BA in English Literature and earned his MLS in 1973. He began his career in Los Angeles at the Sherman Oaks Branch Public Library as a Reference Librarian until 1975 when he became a Senior Librarian in the Philosophy department for the Los Angeles Public Library. In 1976 he was offered the position of Head of General Readers Services at the Los Angeles Public Library. He stayed until 1978 when he returned to Illinois to become Director of the Moline Public Library. At that time, Mr. Adam's curriculum vitae included such activities as Treasurer of the Illinois Library Association's Social Responsibilities Round Table, membership with the American Library Association and Rotary International.
In 1983 Mr. Adams came to Tampa to serve as Director of the Hillsborough County Public Library System. He targeted his efforts towards preparing the library branches for computer technology, automating the collection catalog and developing a county-wide branch system. In keeping with the rapid growth within Hillsborough County, Mr. Adams facilitated the expansion of the library system adding five more branch locations.
In 1992, Mr. Adams accepted the position of Director for the Orange County Public Library system in California. He strived to improve adult literacy by launching the READ/Orange County program for which he won an award for Outstanding Librarian in Support of Literacy from the California Library Association in 2006.
John Merlin Adams passed away on March 4, 2018 at the age of 67.