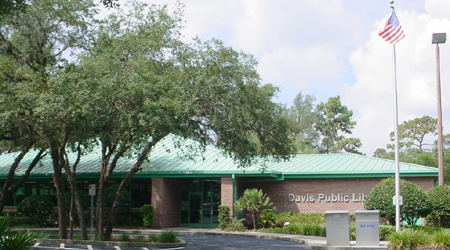 Overview
Located on the north side of Keystone Park and nestled between two wooded areas, the Austin Davis Public Library provides a large reading room, children's area, quiet area, electronic media area, meeting room and kitchen. Today the library houses a collection of nearly 40,000 volumes with additional access to material from all over the county via the online catalog. The library also provides Internet access and office productivity software. Other electronic products include a collection of online databases with some full-text access.
The library is also the repository of community information from the Keystone Civic Association. The library also maintains back issues of the Keystone Community Newsletter.
The people of Hillsborough County and residents of the Citrus Park-Keystone-Odessa area are grateful to the Austin Davis Family and the Austin Davis Family/Winn-Dixie Charities, Inc. for their generous gift, to the Friends of the Library for their tireless support, and to all who have helped make the Austin Davis Public Library an integral part of the Citrus Park-Keystone-Odessa community.
History
The Austin Davis Public Library has a proud history of growth and community involvement. The Hillsborough County Bookmobile provided library service to the community of Citrus Park-Keystone-Odessa until June 6, 1977, when the 800-square-foot "Citrus Park-Keystone Library" opened in a storefront at Fox's Corner Shopping Center. The library provided services and programs that the community responded to eagerly. By 1986 the use of this neighborhood library had grown to the point that the library doubled its size to 1,600 square feet and expanded into a second storefront.
In the fall of 1991, the Hillsborough County Board of County Commissioners accepted a generous $1.1 million offer by Mr. Austin Davis and the Austin Davis Family/Winn-Dixie Charities, Inc. to construct a new library for this community. Mr. Davis selected the Keystone Park site because of its beauty and proximity to the county park, Keystone Recreational Center, thereby creating a service to benefit the community for generations to come.
Although Mr. Davis died before the library could become a reality, the branch now stands as a memorial to both Mr. Davis and his wife, symbolizing their concern for the residents of Hillsborough County and their commitment to making the community a better place for all. In May 1993, the new library opened with 10,500 square feet and almost 30,000 volumes.
Friends of the Library
Today, the Friends provide funding for children's programs in addition to special programs throughout the year. The Friends also actively support the library facility and staff through contributing to the purchase of special equipment and materials for special collections. The Friends raise money to support their programs through yearly membership drives and an on-going book sale. Should you be interested in joining this group of library supporters, information is available through the Friends of the Library web site.