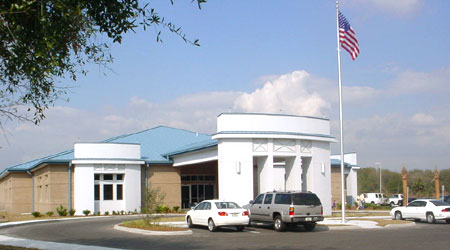 Services
In addition to the technology common to all locations and a number of meeting spaces, the Bloomingdale Regional Public Library has:
Genealogy room
Innovation studio
Electric car charging stations
Overview
The 25,000 square foot building serves communities in east Hillsborough County including Bloomingdale, Valrico, Lithia, and FishHawk Ranch. It houses a collection of over 105,000 items for all ages - a broad range of popular fiction, nonfiction, DVDs, music CDs, books on CD, periodicals and Spanish language materials. A separate genealogy room contains books and online resources to aid family history research. The Children's Room provides a kid-friendly space for pre-school and elementary age customers and their parents or caregivers. In addition to the collection of children's books and DVDs, the room offers computers configured just for kids and child-sized tables and chairs.
Online and Internet access is provided through library computers, a computer lab and WiFi connectivity. The library routinely offers a variety of programs and computer training classes for children, teens and adults. To make check out of library materials fast and easy, the library is equipped with state-of-the art RFID technology - including Express Check stations for customer use. Public meeting rooms at the Bloomingdale Regional Library include the McLean Community Room (named to honor members of the family that formerly owned the land where the library is sited), a large meeting room in the new addition, a small meeting room that doubles as the children's story room, and three other rooms that can be used for quiet study or small group meetings.
History
The Bloomingdale Regional Public Library, located on Bloomingdale Avenue just east of Bloomingdale High School, was dedicated on February 10, 2005. Construction of the then 15,000 sq. ft., $4.5 million building was funded by the Hillsborough County Board of County Commissioners and a grant from the Florida Department of State, Division of Library Services. A 10,000 sq. ft. expansion that includes a large meeting room, flexible seating, and co-working spaces was dedicated in 2014.
Friends of the Library
The Friends of the Bloomingdale Regional Library is an active and enthusiastic citizen support group. The Friends operate their Book Ends Bookstore, located in the library's lobby. Money raised is used to fund special programs and events, such as the on-going award-winning Life Story Writing Workshop, and to provide other support for library operations.
Library Art
The Bloomingdale Library is enhanced by several pieces of public art by local award winning glass artist Lisa Vogt. One is installed in the transom above the library's main entrance. The other, a fanciful, colorful piece on the glass front of the Children's Room, stirs the imagination of customers of all ages. In addition to the public art pieces, Vogt creates a unique fused glass heart for each donor who contributes to the Friends of the Library-sponsored Love Your Library Hearts Wall in the lobby.