The Charles J. Fendig Public Library is closed for interior renovations. Please visit the Jan Kaminis Platt Regional Library at 3910 S. Manhattan Ave. for service. We apologize for the inconvenience.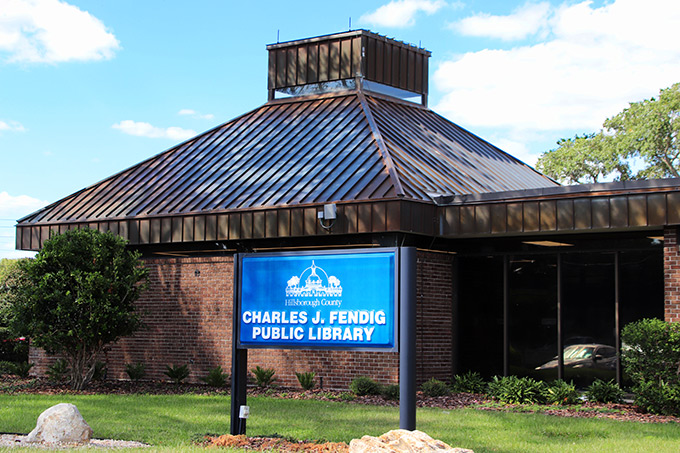 Services
In addition to the technology common to all locations, the Charles J. Fendig Public Library has:
Overview
Renamed in 2001 after Charles J. Fendig, a long time Library Board member, the same building continues to serve as a library for the surrounding south Tampa community. The diverse collection, which includes books, magazines, newspapers, video and audio cassettes and compact discs, provides homework support and leisure interest materials for customers of all ages.
Staff members are available to provide circulation, reader's advisory, reference and programming services. Computers are available that provide office productivity capability to the public. An online public catalog, reference resources & public Internet access deliver information to the library's customers electronically, a technology no one dreamed of in 1960.
Friends of the Library
The Friends of the Charles J. Fendig Library are active supporters and advocates for the library.
History
On November 5, 2001, the Hillsborough County Board of County Commissioners voted to rename the Peninsular Branch Library as the Charles J. Fendig Public Library in honor of former chairman of the Tampa Public Library Board, Charles J. Fendig.
The Charles J. Fendig Public Library, originally known as the Peninsular Branch Library, opened for service on 1 November 1960 in a rented storefront located at 3837 Neptune Street. The opening day book collection numbered just under 2,000 volumes. 136 books circulated that first day and 155 people stopped in to the see the new library. By 1968 the library had outgrown its quarters. The collection numbered approximately 15,900 volumes and the library had the highest circulation of any of the city's seven branch libraries.
A new, modern library became a reality in August 1968. It was built at 3909 Neptune Street at a cost of $346,000. The brick building featured four pods with sloping roofs running up to skylights and was 12,000 square feet. The architectural firm of McElvy, Jennewein, Stefany and Associates was responsible for the design of the building. The dedication was held on Sunday, December 8, 1968. Mayor Dick A. Greco, Jr. was one of the speakers at the auspicious occasion.
In 1994 extensive renovations included a new copper roof, new carpeting, and new upholstered furniture, improved magazine and newspaper shelving, and a new interior layout to accommodate changes in technology. In addition, the library added bookdrops that are open twenty-four hours.