Home Locations Jan Kaminis Platt Regional Library
Nearby Bus Stops
Manhattan Ave. @ Euclid Ave. - Route

17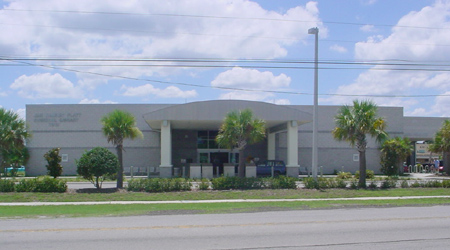 Services
In addition to the technology common to all locations and a number of meeting spaces, the Jan Kaminis Platt Regional Library has:
Drive-thru window service
Overview
The Jan Kaminis Platt Regional Library was dedicated and opened to the public on December 11, 2000. The facility is named in honor of Jan Kaminis Platt, who served the community for over 20 years as a member of the Tampa City Council and as a Hillsborough County Commissioner. A fervent advocate for libraries, she was named to the American Library Association's Freedom to Read Honor Roll and received the Best Friend of the Year award from the Friends of the Library of Hillsborough County, Inc. in 1999.
The 25,000 square foot regional library, the 22nd branch in the county's library system, serves the south Tampa community with a full range of services and programs for customers of all ages.
The facility includes two meeting rooms for public use and a drive-through window for convenient check out and return of materials. It also features an opening day collection of nearly 90,000 books, magazines, CDs, videos, and DVDs, as well as computers to access a wide variety of electronic resources including the Internet and word processing software.
History
The Jan Kaminis Platt Regional Library is the third and final facility paid for primarily by a special .10 mil fund designated within the Special Library Taxing District approved by the Board of County Commissioners in September 1993.
$4.2 million of the library's construction cost came from this fund. A $500,000 grant from the State of Florida's Division of Library and Information Services also helped finance the facility that was designed by the architectural firm of Gee & Jensen.
Friends of the Library
The Friends of the Jan Platt Library are active supporters and advocates for the library.
Library Art
The distinctive collection of art at the Jan Kaminis Platt Regional Library enhances the architectural design of the building. Featured throughout the interior is an eclectic collection of works on paper and canvas, glass art and woven copper sculpture by a diverse group of local, regional, national, and international award-winning artists. At the entry to the children's section are a handcarved panther portico and a manatee bench.
Upcoming Events
More Events