The library's restrooms are being renovated.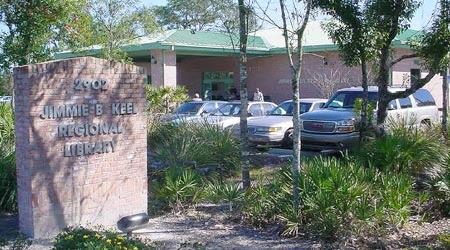 Services
In addition to the technology common to all locations and a number of meeting spaces, the Jimmie B. Keel Regional Library has:
Drive-thru window service
Electric car charging stations
Overview
The Jimmie B. Keel Regional Library opened February 14, 2001 to serve the Carrollwood and Northdale communities in northern Hillsborough County. A 10,000 square foot expansion of the original 25,000 square foot building was completed in February 2014 and features:

a glass-enclosed children's room and story time room
a second community room over twice the size of the original
new spaces, furniture and technologies to facilitate collaborative work
a vending café
a larger Carousel Book Store
The library houses a comprehensive circulating collection in multiple formats and a wide variety of programs and services. In addition to the two large community rooms and story time room, four smaller meeting rooms are available for programs, meetings, quiet study and literacy tutoring. A public makerspace, The Hive, offers unique tools, activities and events for hands-on learning. A drive-thru window offers convenient checkout and return of library materials to customers on the go.
History
The Jimmie B. Keel Regional Library, a gift from the Winn-Dixie Foundation, replaced the old Northwest Regional Library building on Premiere Drive. The branch is named in honor of Jimmie B. Keel, former Assistant County Administrator, in recognition of his 35 years of passionate, caring service to Hillsborough County.
Friends of the Library
The Friends of the Jimmie B. Keel Regional Library are active partners who operate the Carousel Bookstore located in the north lobby of the library. They use funds raised by bookstore sales to pay for library programs for adults, teens and children as well as the purchase of furniture, fixtures, technology and art to enhance the facility, including the seven life-sized carousel animals by local artist Cindy Niemi Seifert installed in the children's room.
Library Art
The Jimmie B. Keel Regional Library is enriched by art acquired through Hillsborough County's Public Art Program including 17 paintings by local folk artist Mr. B (Jack Beverland) which illustrate The Song of Hillsborough written by Hillsborough County's Poet Laureate James E. Tokley, Sr; the screen print Two Butterflies by Carolyn Heller, local artist and founding member of the County's Public Art Committee; the oil and acrylic More Toys More Fun More TV - Red Wagon by James Michaels; the oil on photograph Shadow Play #2 by Richard Reddig; a digital print of Visions for Tomorrow by Bruce Marsh; and an untitled hand colored photograph by Lorraine Genovar. Additionally, two sculptural works, Manatee Porthole and Dolphin Smile Porthole, by noted artist Wyland were generously donated to the library by the Carrollwood Area Business Association (CABA).
The Library is also home to Gallery @ 2902 where the works of local and regional artists are regularly exhibited.
Upcoming Events
More Events