Home Locations New Tampa Regional Library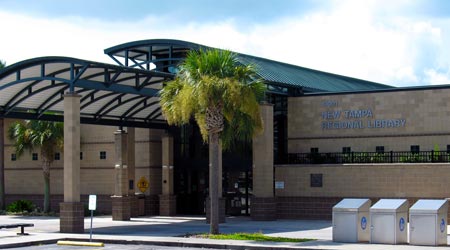 Services
In addition to the technology common to all locations and a number of meeting spaces, the The New Tampa Regional Library has:
Overview
The 25,000 square foot New Tampa Regional Library is located on Cross Creek Boulevard adjacent to a small lake and wooded area to the south which offers a panoramic view of a natural Florida habitat from the public reading room. The library houses a comprehensive circulating collection in multiple formats and a wide variety of programs and services. In addition to a large community room and story time room, four smaller meeting rooms are available for programs, meetings, quiet study and literacy tutoring. A public makerspace, The Hive, offers unique tools, activities and events for hands-on learning.
Friends of the Library
The Friends of the New Tampa Regional Library, led by their founding president Jeri Zelinski, were instrumental in rallying community support for building the branch. They continue to provide advocacy and support for the library through the Friends-operated bookstore, the Book Nook, which is located inside the library near the front lobby. Proceeds from book sales are used to fund programs for children, teens and adults and to support other library activities.
History
The New Tampa Regional Library, designed by Harvard Jolly Clees Toppe Architects and funded by a .10-mill property tax levy, the $4.4 million facility was built on 3.6 acres donated by Markborough Florida Inc., through the efforts of Britt Greene. The New Tampa Regional Library was dedicated May 4, 1997.
The Jeri Zelinski Community Room, named in honor of the woman who worked tirelessly to bring a library to the New Tampa community, was dedicated posthumously on September 25, 2004. Zelinski, a retired librarian, led petition drives, formed alliances and prodded developers to donate land for the library.
Library Art
The library facility is enhanced by numerous works of art provided through Hillsborough County's Public Art Program. Encircling the building is the ceramic tile ribbon walkway, Alphawalk by Claire Jeanine Satin, that celebrates the written word. On the library's back patio is The Key Tree by Plant City metal artist Rob Woods. Created in 2005 and installed at the library in 2014, this 14-branch tree has 1880 leaves made from keys collected by students from Tampa Palms Elementary School. Displayed inside the building are Celeste Simon's acrylic on canvas Spirit Ladder; Martha Brooks Marshall's acrylic on canvas From the Shadows and Cascading; John Whipple's mixed media Gift Bearers; and George Pappas' mixed media Trojan Battle Plan.