Home Locations Port Tampa City Library
Nearby Bus Stops
Westshore Blvd. @ Loughman St. - Route

17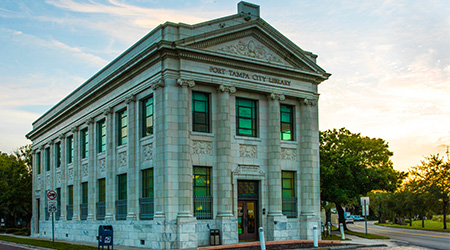 Overview
The Port Tampa City Library blends traditional architectural elements of the past with state-of-the-art telecommunication systems offering information via print and electronic sources, leisure reading, as well as community meeting rooms. A unique Maritime Reading Room includes print and electronic sources along with artifacts of interest to Tampa's maritime community. Special guest lectures are held throughout the year. Contact the Port Tampa City Library for details.
History
The Port Tampa City Library, a neighborhood branch in the Tampa-Hillsborough County Library System, has a proud heritage. The library was one of the first projects undertaken by the Port Tampa City Woman's Club, who operated the library from 1951 to 1961. The Tampa Library System assumed responsibility for the operation of the branch in 1961. The merger of the city and county libraries in 1984 put the Port Tampa City Library under the county aegis where it remains.
In Summer 1998, the Port Tampa City Library relocated from a 1,500 square foot building into a 5,700 square foot Local Landmark building. Renovation of the historic "Commerce Bank Building" into the Port Tampa City Library was the result of efforts by Library advocates from the City of Port Tampa, the Hillsborough County Board of County Commissioners, the Tampa-Hillsborough County Public Advisory Board, and Hillsborough County staff.
Through the renovation process, the Library maintained much of its historic fabric. The exterior is neoclassical style with a marble base and glazed white terracotta tile above. Ionic pilasters and panels with urns and floral decorations are featured in the terracotta tile. New bronze entry doors are set in the original bronze frames. Inside, the first floor ceilings soar 16 feet to a cast plaster, coffered ceiling with egg-and-dart and dentil molding, a motif repeated in the pediment on the exterior of the building. Original marble and terrazzo floors and new custom made cherry cabinetry and light fixtures accentuate this elegant building.
Friends of the Library
The Friends of the Port Tampa City Library & Maritime Reading Room are active supporters and advocates for the library.
Library Art
The Port Tampa City Benches by artist Susan B. Gott and collaborator, J.R. Lochmandy, were commissioned in 1998 through Hillsborough County's Public Art Program. The benches, consisting of 28 kiln cast, multi-colored glass tiles set in steel, complement the Greek Revival architecture and capture the community identity and spirit of Port Tampa and its citizens. The benches create a unique public art place for library customers and residents to repose and read. They were fabricated at her Phoenix Glass Studio in Tampa by artist Susan B. Gott, whose sculpture is included in numerous museum, private and corporate collections.