Nearby Bus Stops
Boyette Rd. @ Balm Riverview Rd. - Route

24

Services
In addition to the technology common to all locations and a number of meeting spaces, the Riverview Public Library has:
Recording Studio
Makerspace
Early Learning HIVE
Covered and screened-in reading porch
Gallery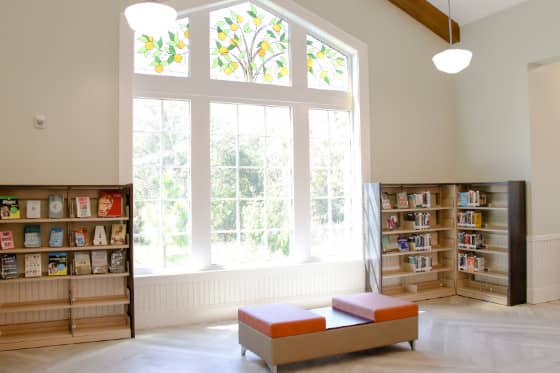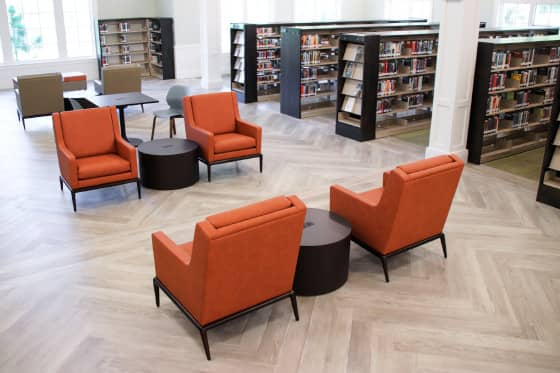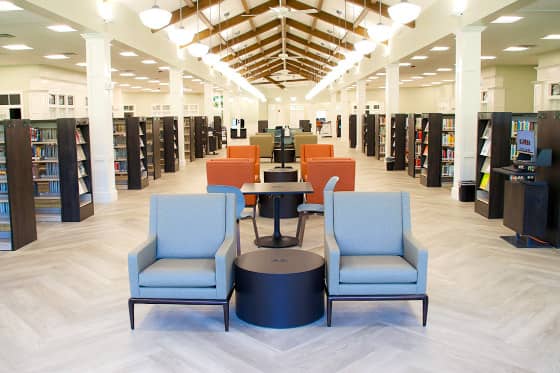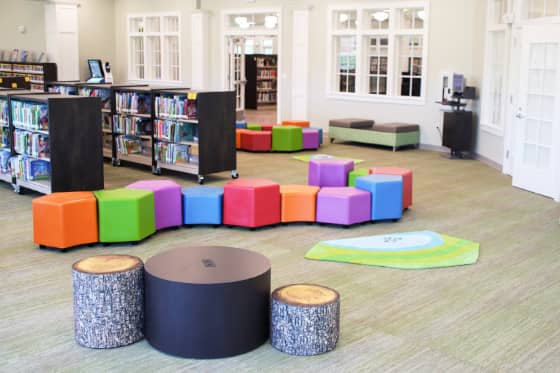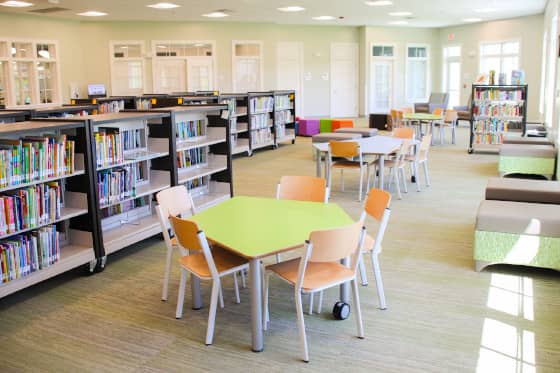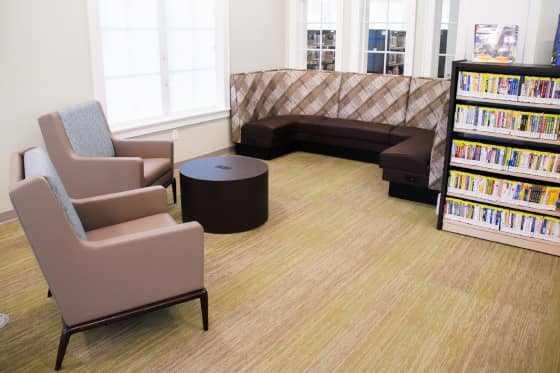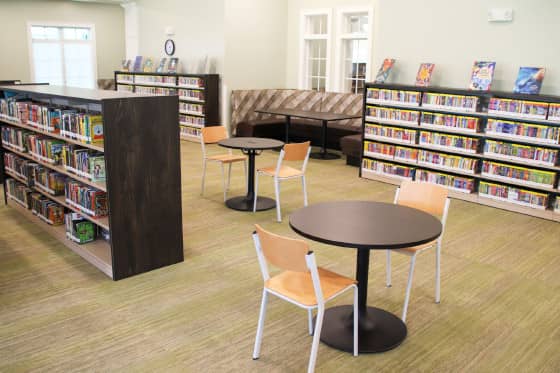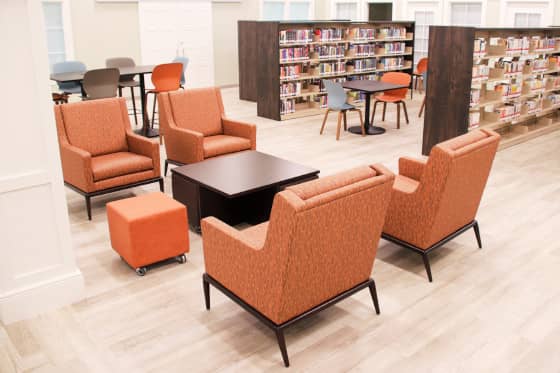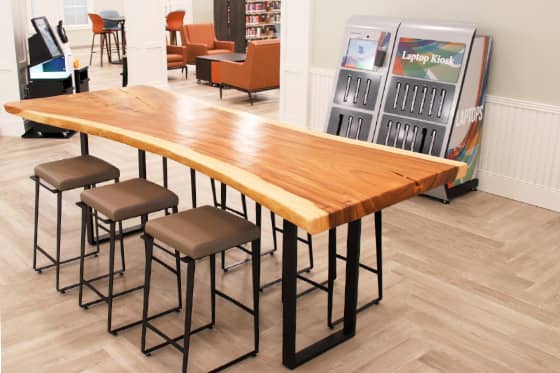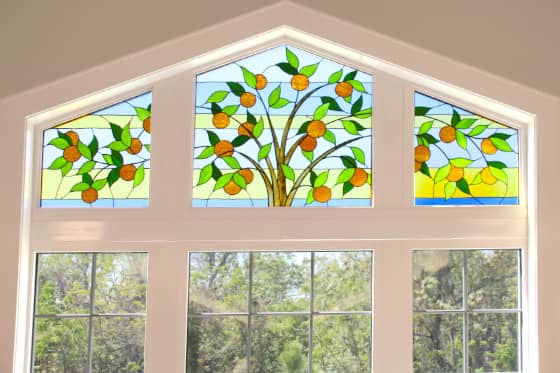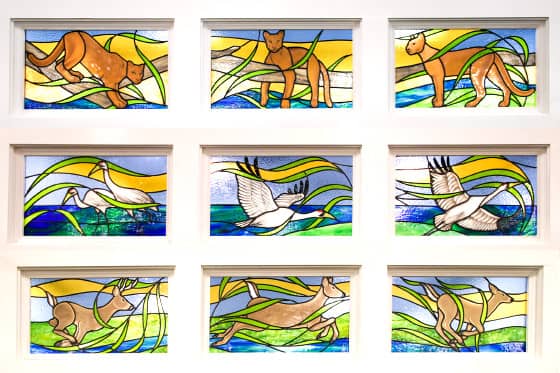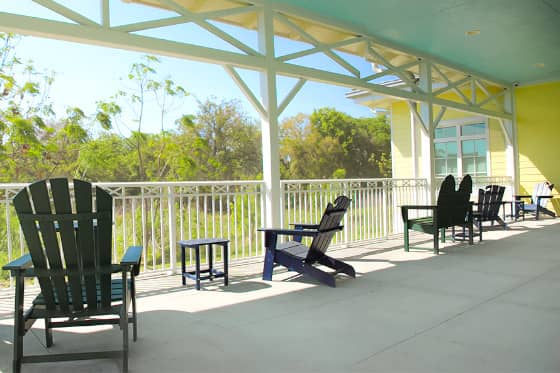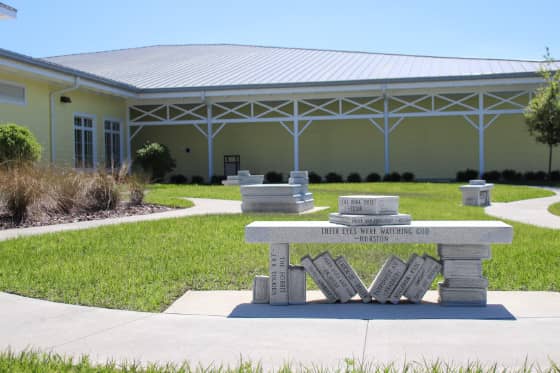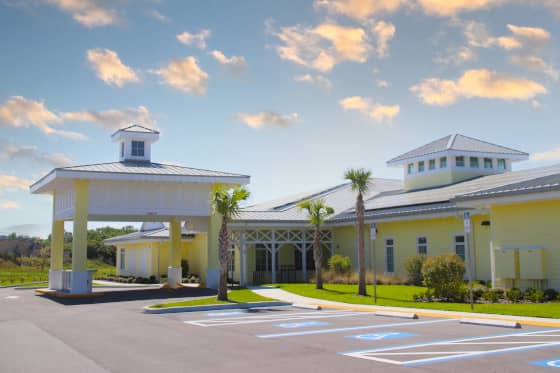 Overview
The 35,000 square foot facility offers a full range of services including books, magazines, DVDs, Internet & Wi-Fi access, eight meeting rooms, screened-in reading porch, and a beautiful outdoor garden space. After-hours book drops are located on either side of the library. The Riverview Public Library also includes a Café space sponsored by Mosaic that includes vending machines and tables and a Friends of the Riverview Library bookstore.
The Children's Room and Early Learning HIVE will provide a kid-friendly space for preschool and elementary age customers and their parents or caregivers. In addition to the collection of children's books and DVDs, the room offers computers configured just for kids and child-sized tables and chairs.
Library Art
The Riverview Public Library is enhanced by a terrazzo floor mural, The River of Fire by artist Barry Goodman, set into the main entranceway of the library and flows throughout the lobby hall leading to the library's Main Reading Room. The Riverview Public Library also includes a series of stained-glass windows by McMow Art Glass depicting the people, plants, and animals native to the area.
Inspiration for the new location's Old Florida Grandeur style came from old Florida postcards and a 1940s coastal vibe. The interior's light and airy color pallete of whites, mints, and other shades of soft green are balanced by the richer wood finishes of the beamed ceiling and the furniture. Outside you will find granite book benches with iconic book titles in the garden space.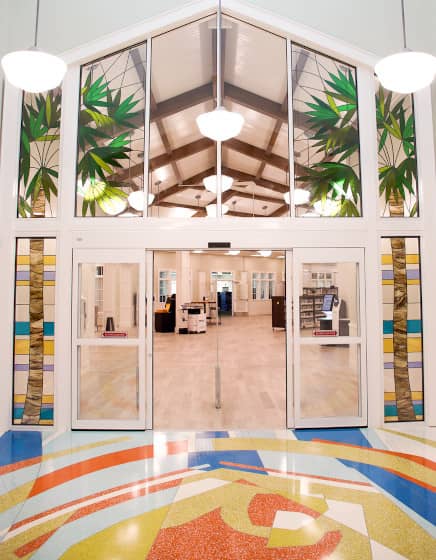 History
Library service to the community originated with Riverview Station, a bookmobile stop at a local grocery store. A group of citizens formed the Riverview Library Association when they saw the need for a library building to better serve the communities of Riverview, South Brandon, Progress Village and Gibsonton. With the Gardinier Corporation's donation of land that had formerly been used as a worm farm, the plans became reality.
The original 8,000 square foot Riverview Branch Library opened November 18, 1979 to serve the populations of Riverview, Gibsonton, and Apollo Beach. It quickly became a staple of the community and eventually outgrew its limited space and single meeting room. The library operated at the 10509 Riverview Drive location until its permanent closure on January 8, 2021. The new building, renamed Riverview Public Library, restored service to the community through curbside service on January 13, 2021 and opened to the public on April 5, 2021.
Upcoming Events
More Events