Robert W. Saunders, Sr. Public Library
Art

Guide
Nancy Gutkin O'Neil

Stained Glass

Unbroken Thread

Princess Smith

Oil Painting

Champions for Change

Joe Testa-Secca

Mural

Symbols of Mankind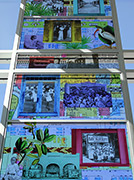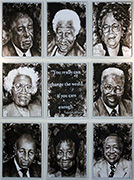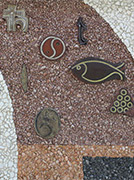 The 1989 Hillsborough County Public Art Ordinance provides for the Board of County Commissioners to acquire, by purchase or commission, works of art for sites throughout the county. A group of citizens and art professionals appointed by the Board of County Commissioners comprises the volunteer Public Art Committee. This seven-member committee cooperates with site advisory committee members, project managers, and architects to select art work reflective of the county's cultural diversity, and is complementary to the site's environment and structural design. Use the Public Art Viewer to take a virtual tour of public art in Hillsborough County.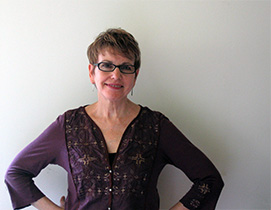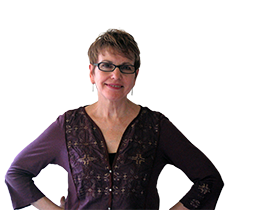 Nancy Gutkin O'Neil grew up in Brooklyn, New York, and received her BA in 1970 from Sarah Lawrence College where she focused on studio art. She raised her family in Maine, and then moved to New Orleans. O'Neil has been working with glass and light since the 1970s. Her designs are research based and often deal with a sense of place, and include historic and contemporary photos, maps, manuscripts, flora and fauna, archaeological material and more.
O'Neil has been awarded numerous public art commissions throughout the United States and has fabricated pieces for schools, hospitals, government agencies and other public buildings from Maine to Florida. A Finalist in the Hillsborough County Public Art Program in 2003, O'Neil has been the recipient of multiple art awards and honors.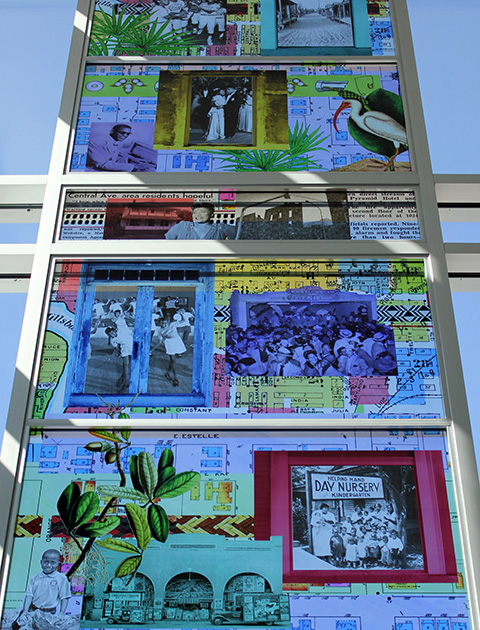 The glass art installation, entitled An Unbroken Thread, features flora and fauna elements, adapted textile patterns from Bahamas and West Africa, local artifacts found at an archaeological dig at Perry Harvey, Sr. Park, photos of community significance, and other historic and contemporary material, including the 1915 Sanborn Fire Insurance Maps of Tampa.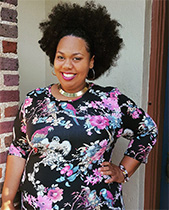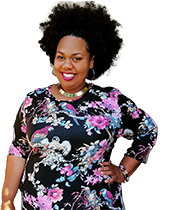 Princess Smith is a native of Los Angeles, where she spent her formative years growing up in one of the toughest neighborhoods in the nation. This environment, steeped in neglect, poverty, violence and abuse serves as a vivid source of inspiration for her primary subject matter. Smith later relocated to the Tampa Bay area and earned her BA from The University of Tampa and MFA from University of South Florida. She is a rising star in the Tampa art scene, winning the 2013 Emerging Artist of the Year at the Raymond James Gasparilla Festival of the Arts.
Smith's work has also been featured at the Cass Gallery Reveal Exhibit and Seminole Heights Branch Library, and was hand-picked by award-winning recording artist and producer Swizz Beatz, to be part of his #TheUnknowns campaign, an art auction celebrating up-and-coming artists at Sotheby's New York.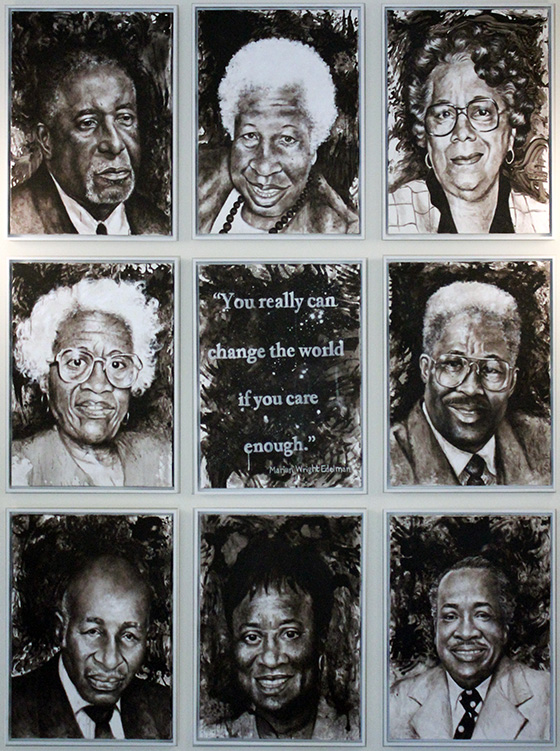 Champions for Change, an oil finger-painting on canvas, features a selection of influential civil rights activists in Hillsborough County:
Dr. Bernard Lafayette, Jr. — National leader in the Civil Rights Movement
Mary Alice Dorsett — First African American candidate for public office in Hillsborough County
Helen Saunders — President of the Tampa Chapter of the NAACP
Ellen H. Green — First female active president of the Tampa NAACP
Clarence Fort — Organized the first sit-ins at the Woolworth lunch counter in Tampa
Rev. Dr. A. Leon Lowry — President of the Florida Chapter of NAACP
Senator Arthenia Joyner — First female African American elected to the Florida Senate from Hillsborough County
Attorney Francisco Rodriguez — Special counsel for the NAACP in the southeast region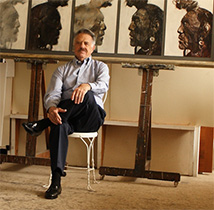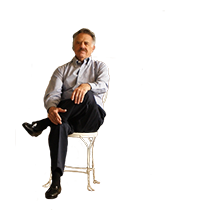 Joe Testa-Secca was a contemporary American artist and a Tampa native. He began his career as an artist during his service in the Navy when he was given the job of medical illustrator at San Diego Naval Hospital. Discharged in 1954, Testa-Secca went on to earn his BA and MFA from University of Georgia. He taught at The University of Tampa for 30 years as the Dana Professor of Art, serving as Chair for the Art Department from 1982-1988. Testa-Secca retired from The University of Tampa as Professor Emeritus in 1995.
His artworks are in the permanent collections of the Tampa, Jacksonville, Polk County and The Leepa-Rattner Museums of Art. Testa-Secca's murals, stained glass windows and other artworks are displayed at The University of Tampa, University of South Florida, Jesuit Chapel, local banks, churches, private collections and John F. Germany Public Library.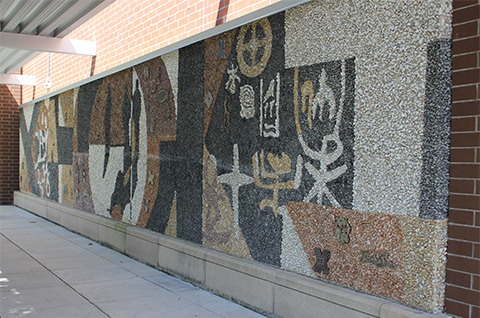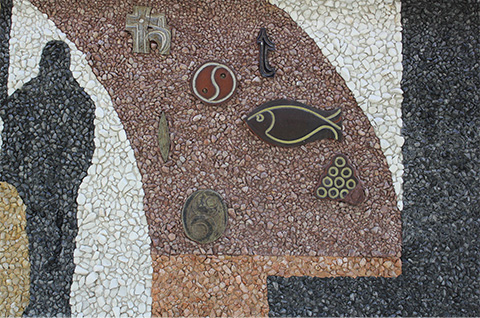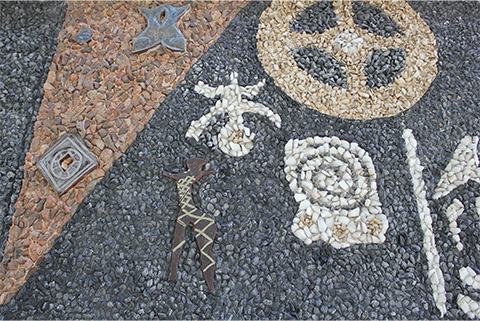 Symbols of Mankind was created for the entryway façade of Ybor City Branch Library in 1969. The mural is more than 7 feet tall and 40 feet wide and made with stone and ceramic designs rich in the symbols of many cultures. Testa-Secca's goal was to recognize the great knowledge to be found in a library.
Over the years, the mosaic became weathered by the elements and vandalism. Thanks to the efforts of the Friends of the Library of Tampa-Hillsborough County, Inc., the mural was restored and re-dedicated on October 2, 1995.
In 2003 the library was renamed Robert W. Saunders, Sr. Public Library. As part of the library's reconstruction in 2014, the mural was removed and reassembled on the façade of the new Robert W. Saunders, Sr. Public Library.