Home Locations Robert W. Saunders, Sr. Public Library
Nearby Bus Stops
Nebraska Ave. @ Estelle St. - Route

12

/

400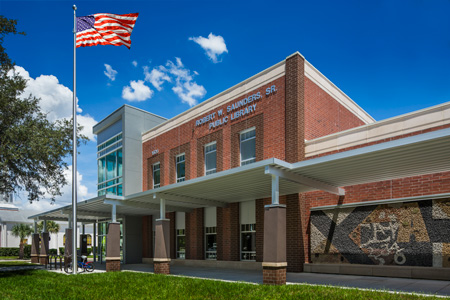 Services
In addition to the technology common to all locations and a meeting space, the Robert W. Saunders, Sr. Public Library has:
Overview
This location provides Internet access through library computers and Wi-Fi connectivity. After-hours book drops are located at both the front of the building and in the parking lot. The branch is located just north of the historic Union Train Station near downtown Tampa.
This library contains many museum quality exhibits, including displays on the Civil Rights movement and the NAACP located in the lobby. The History of Central Avenue hallway features interactive touch panels, with both audio and visual elements.
The Children's area features a touch-screen display panel and a collaborative touch-screen table.
Community Support
The Saunders Library receives support from the Ada T. Payne Friends of the Urban Libraries, active supporters and advocates for the library. Proceeds from their fundraising efforts directly benefit this branch and the West Tampa Branch Library.
The Robert W. Saunders, Sr. Library Foundation raises funds that support educational, African American research and cultural activities at the Saunders Library and within the Tampa community.
History
The original library opened in 1933 and was named the Ybor City Branch Library. Its home was a storefront facility at 1729 East Broadway donated by the local Italian American Club. The new building at 1505 North Nebraska Avenue was dedicated in January of 1969. On November 5, 2003, the Hillsborough County Board of County Commissioners voted to rename the Ybor City Branch Library to honor Robert W. Saunders, Sr., civil rights activist and former NAACP Field Director. A bronze bust of Mr. Saunders by artist Brian R. Owens is on display in the lobby.