Nearby Bus Stops
Nebraska Ave. @ Osborne Ave. - Route

400

Florida Ave. @ Osborne Ave. - Route

1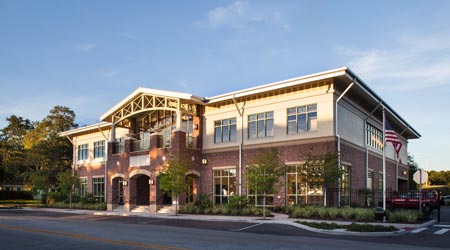 Overview
Seminole Heights is one of Tampa's oldest residential areas and home to two nationally designated historical districts -- Seminole Heights and Hampton Terrace. Most buildings were constructed in the early 20th century, and many homes are classic bungalows. The Seminole Heights Branch Library is nestled in this historic community on the corner of Central Avenue and Osborne Avenue. The library houses a unique Historic Homes Collection to help residents and scholars with restoration and preservation projects of historic homes. This collection encompasses all interior and exterior parts of the home including gardens and patio areas. The library serves the needs of a diverse clientele, including students from nearby schools (Hillsborough High School and Memorial Middle School are right across the street) and the many families that live in the neighborhood.
Friends of the Library
The Seminole Heights Branch Library has a Friends of the Library group. The Friends maintain a book sale area and are active supporters and advocates for the library. This group works cooperatively with long time supporters, the Old Seminole Heights Neighborhood Association (OSHNA) and the South and Southeast Seminole Heights Neighborhood groups.
History
Founded in 1927 as one of seven city libraries, the Seminole Heights Branch has grown into a heavily utilized neighborhood branch of the Hillsborough County Library System. The library went through a series of relocations over the years, and a $69,000 facility was built at the current location on April 25, 1965, by Architect George M. Gutierrez of Tampa. That facility has since been replaced by a 22,000-square-foot library funded through the Capital Improvement Program at $3,878,080. The current facility was dedicated in March of 2014.