O
ceans of Possibilities
Dive into Summer Reading
June 1 – July 31, 2022
Join the Reading Challenge
Register with Beanstack for one of three summer challenges:
Kids
Tweens + Teens
Adults
Log reading and activities to unlock digital badges, story recommendations, and for adults a free one year membership to Friends of the Library of Tampa-Hillsborough County, Inc.
Share Your Story
This summer is a chance to connect and to share our stories.
Take a photo and tell us your summer library story when you:
Read a book that you cannot put down
Prizes
Win books and cool technology-based prizes in this year's reading challenge when you:
Log your reading between June 1 and July 31, 2022.
Attend select live virtual events this summer.
By registering and participating in the summer reading challenges, and attending online events, participants of all ages will have a chance to win tickets to ZooTampa or tech prizes such as Bluetooth speakers, gaming consoles, headphones, and robotics.
Reading with the Rays
To be eligible for more prizes, pick up your Reading with the Rays game card at your preferred library branch beginning June 5, 2022. Youth may keep track of their hours read both in Beanstack and on the Rays card. Once the game card is completed, turn it in to your local public library for a chance to win Tampa Bay Rays prizes.
Learn more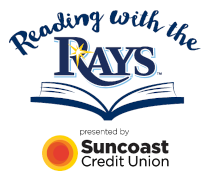 Meet the Authors
Celebrate reading with virtual visits from three notable authors. Register and attend for a chance to win a free book.
This program is presented in partnership with Hillsborough County Public Schools as part of an initiative of the American Library Association (ALA), made possible with funding from the National Endowment for the Humanities (NEH) through the American Rescue Plan Act of 2021.
How Do I Sign Up for Beanstack?
Sign up in the Beanstack Tracker or using the Beanstack mobile app.
New users will need to set up an account. A valid email address is required.
Returning users can log in with their existing account information and sign up for the summer reading challenge.
Events
Virtual Events
In-Person Events
Book Lists
Summer Slide
According to the Northwest Evaluation Association, school-year gains in reading and math may decrease as much as 20% to 50%. The library is here to help with 24/7 access to eBooks, eAudiobooks, eMagazines, and many more avenues for reading and learning. Take an entire bookshelf of titles with you everywhere you go.
Summer Reading is in partnership with: