Nearby Bus Stops
22nd St. @ 137th Ave. - Route

44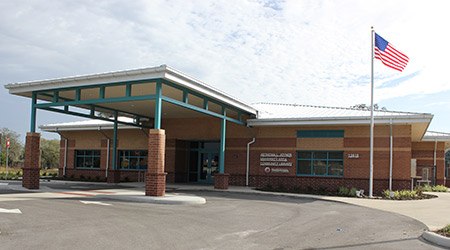 Services
In addition to the technology common to all locations and a number of meeting spaces, the Arthenia L. Joyner University Area Community Library has:
WEDU PBS Phyllis L. Ensign Library Corner
Overview
The Arthenia L. Joyner University Area Community Library is a collaboration between Tampa-Hillsborough County Public Library and the School District of Hillsborough County. The 15,000 square foot building serves as a partnership library with Muller Elementary Magnet School. A portion of the library serves as the school's Media Center during school hours and is available to the public during after-school library hours.
In addition to its collection of popular materials for customers of all ages, the library offers a variety of meeting spaces, computers, state-of-the-art technology and instruction, early literacy and family events, and job seeking resources and assistance. You can also learn more about the contributions of local women by visiting the Hillsborough County Women's Hall of Fame display.
History
The Arthenia L. Joyner University Area Community Library, located adjacent to Muller Elementary Magnet School on 22nd Street in the University Area of Tampa, opened to the public in January 2018. Construction of the 15,000 square foot building was funded by the Hillsborough County Board of County Commissioners and a grant from the Florida Department of State, Division of Library Services and the State of Florida. The library was named in honor of State Senator Arthenia L. Joyner, a distinguished lawyer and politician and dedicated advocate for service, equality, and civil rights.
Library Art
The Arthenia L. Joyner University Area Community Library is enhanced by a porcelain and glass tile mosaic, BRIGHT SPOT/You Must be Present to Win, set into the gray tile floor of the library entrance. The smaller, repeated bullseyes represent individual community members' goals, while the encompassing concentric circles represent the library and its resources encouraging the community to achieve them. The color palette works harmoniously with the interior library design.
Artist Catherine Woods is a nationally-recognized sculptor working primarily in architectural glass and metal. She has been creating artwork for the public sector since 2002. Her work responds to and transforms environments through color, presence, and scale, taking into consideration the personality of the community and honoring the architecture where they are sited.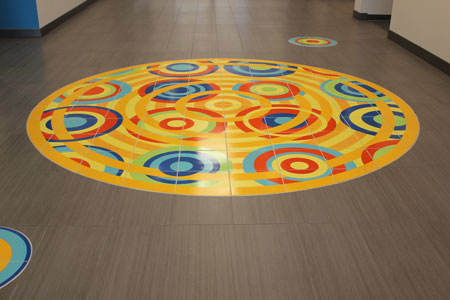 Upcoming Events
More Events