Home Locations John F. Germany Public Library
Florida History & Genealogy Library - 4th Floor
Collections
More About The John F. Germany Library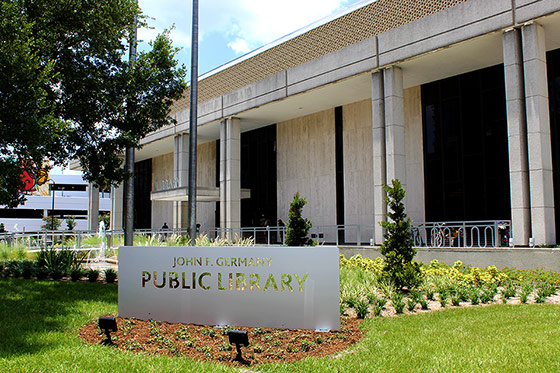 About
The 140,000 square foot John F. Germany Public Library serves as the reference hub and resource center for all citizens of Hillsborough County, and as the flagship library of the Tampa-Hillsborough County Public Library system.
Professional staff are here to provide you with timely, accurate answers to your basic information requests and to facilitate your in-depth research-whether for school, business or personal projects. The John F. Germany Public Library is home to several comprehensive research tools and local history collections.
The John F. Germany Library also serves as the local branch library for the downtown area and surrounding communities by offering popular materials such as bestsellers, music, videos, audio books, and more to customers of all ages.
Our computer labs and PCs provide a supportive environment for electronic access and learning. Meeting rooms of varying sizes are available for public use.
A variety of fun and educational programs for children and adults are presented throughout the year. These events and classes are designed to increase research and computer skills, facilitate information access, and foster the love of reading.
For art lovers, a permanent art collection enhances the ambience of the environment, including the Bella Apollonia sculpture, and rotating exhibits in the Louise & Arnold Kotler Art Gallery on the second floor, exhibits the work of local and regional artists.
If you like books and bargains, visit Grover's Corners, the Friends of the Library Bookstore, located on the first floor.
Art Exhibits
January 2 - March 1, 2019
Selections from the Mexican-American Songbook by Paul Valadez
The Louise & Arnold Kotler Art Gallery presents the work of Paul Valadez in the new exhibit, "Selections from the Great Mexican-American Songbook." Valadez draws inspiration from his childhood memories and his upbringing in a bi-cultural family in California. Using music sheets from the traditional "Great American Songbook" of the early 20th Century as a foundation, he transforms a language of images into a collage of race, culture, and history, with a measure of satire.
Paul Valadez was born in California into a Mexican-American family. He received a BFA in Interdisciplinary Art from the San Francisco Art Institute and a MFA in Studio Art from the University of North Carolina, Chapel Hill where he was awarded a Weiss Fellowship for Urban Livability. His work has been on exhibit at such places as the Nevada Museum of Art, Latino Art Museum of Pomona, CA, the El Paso Museum of Art, and the Montana Museum of Art & Culture. Valadez aspires to make art as a Mexican-American artist that challenges the viewer's preconceived notions of what Mexican-American art can be.
Upcoming Events
More Events