Home Locations John F. Germany Public Library
Florida History & Genealogy Library - 4th Floor
Collections
More About The John F. Germany Library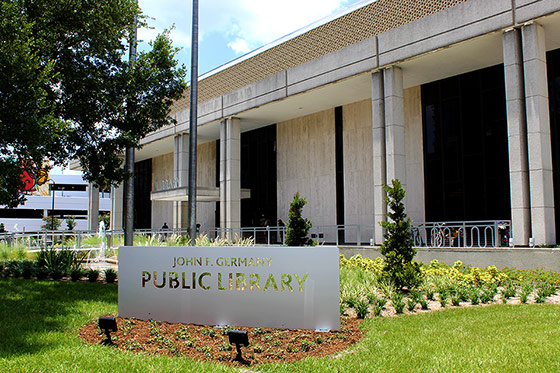 About
The 140,000 square foot John F. Germany Public Library serves as the reference hub and resource center for all citizens of Hillsborough County, and as the flagship library of the Tampa-Hillsborough County Public Library system.
Professional staff are here to provide you with timely, accurate answers to your basic information requests and to facilitate your in-depth research-whether for school, business or personal projects. The John F. Germany Public Library is home to several comprehensive research tools and local history collections.
The John F. Germany Library also serves as the local branch library for the downtown area and surrounding communities by offering popular materials such as bestsellers, music, videos, audio books, and more to customers of all ages.
Our computer labs and PCs provide a supportive environment for electronic access and learning. Meeting rooms of varying sizes are available for public use.
A variety of fun and educational programs for children and adults are presented throughout the year. These events and classes are designed to increase research and computer skills, facilitate information access, and foster the love of reading.
For art lovers, a permanent art collection enhances the ambience of the environment, including the Bella Apollonia sculpture, and rotating exhibits in the Louise & Arnold Kotler Art Gallery on the second floor, exhibits the work of local and regional artists.
If you like books and bargains, visit Grover's Corners, the Friends of the Library Bookstore, located on the first floor.
Art Exhibits
June 3 - July 31, 2019
Galaxy Space Art: A Solo Show by Jeremy Rivera
The Louise & Arnold Kotler Art Gallery presents "Galaxy Space Art: A Solo Show" by Jeremy Rivera, a collection of digitally manipulated images of our universe. Playing with vivid and contrasting colors, Rivera strives to immerse the viewer into an altered visual perception. Rivera received a BFA in Photography from USF in 2014 and is a member of "The Focus Group," a photographer collective of USF alumni.
An art reception will be held on Saturday, June 22 from 2 p.m. to 4 p.m. to meet the artist and enjoy light refreshments. Funded by the Friends of the John F. Germany Public Library.
Upcoming Events
More Events