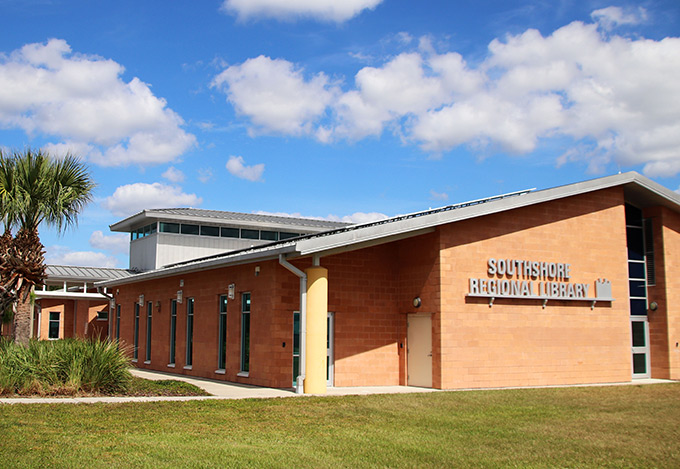 Services
In addition to the technology common to all locations and a number of meeting spaces, the SouthShore Regional Library has:
Overview
Opened in October of 2006, the 40,000 square foot SouthShore Regional Library offers a wide variety of materials including books, magazines, online databases, music & DVDs for children, teens and adults - in both English and in Spanish. There are 24 public Internet access computers as well as wireless Internet service available throughout the library. A variety of programs for all ages are offered each month.
The library has a large community room as well as smaller meeting rooms of varying sizes available for community and non-profit groups. The Genealogy Center offers computer workstations, print and online resources for genealogical research. The Children's Library, decorated in a Florida wildlife theme, offers the library's youngest visitors books, magazines, media and computers for fun and learning.
Friends of the Library
The Friends of the SouthShore Regional Library host a bookstore and vending cafe.
History
The 25th and largest library branch in Hillsborough County, SouthShore Regional Library serves a growing and diverse population in the south county area. The library was completed at a cost of $10,138,000, with the aid of a $500,000 State of Florida Department of State, Division of Library and Information Services Public Library construction grant.
Library Art
The John Crawford Art Education Studio features the works of former librarian and watercolor artist John Crawford.